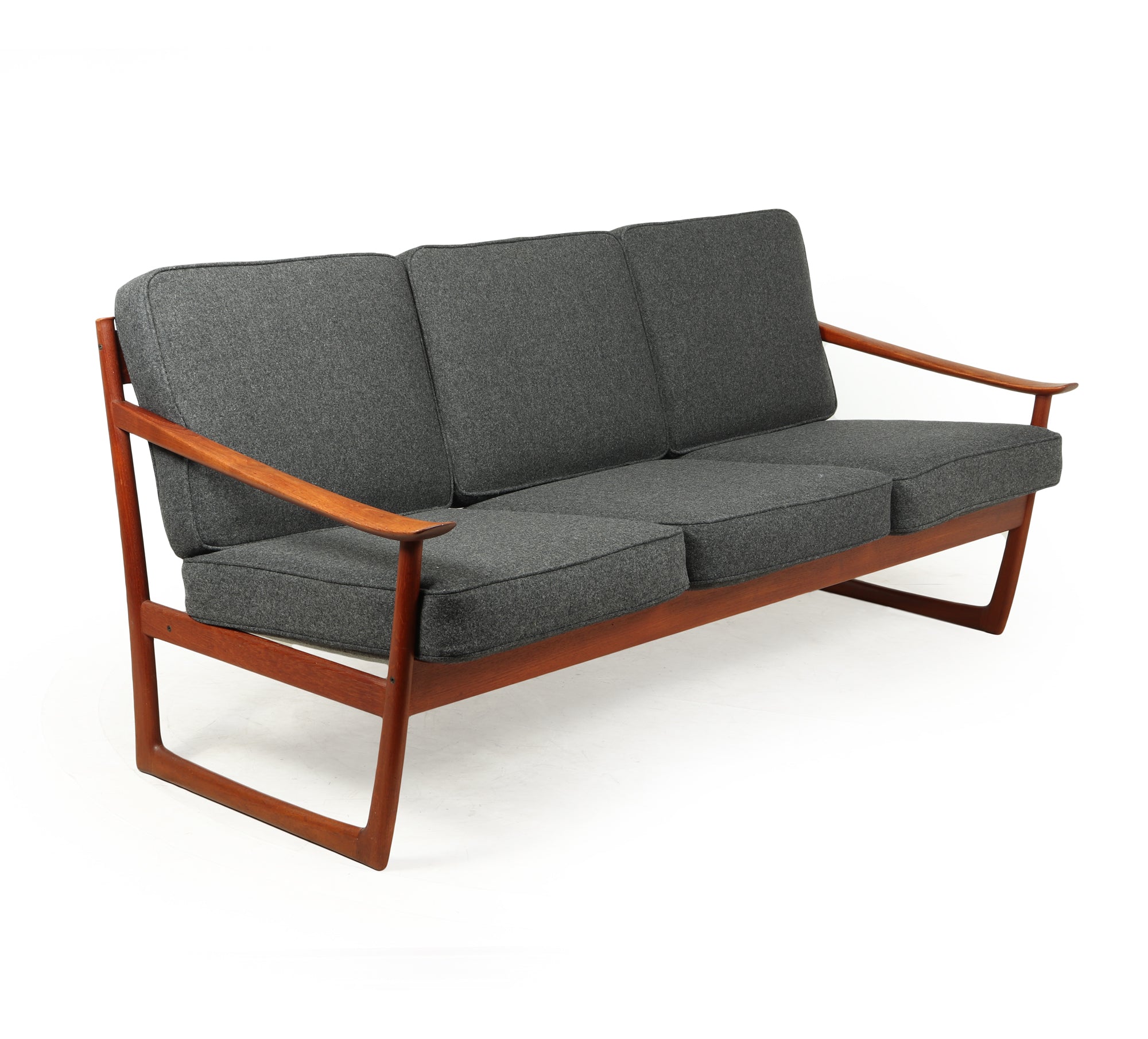 Are you looking for a way to add some flair to your home? If so, a 
vintage sofa
 may be the perfect solution! Whether you prefer the mid century style or perhaps something more art deco, there's a wide selection of vintage sofas that can easily enhance any living space. Not only are these antique pieces unique and charming, but they also often feature hardwood frames that have been re-upholstered to provide extra support and comfort.
Vintage sofa
Reinvigorate Your Living Room with a Classic Vintage Danish Sofa
Having an Iconic Style Vintage Sofa is an interior design classic that is sure to make a statement in any home. This timeless piece of furniture features a solid teak frame, paired with luxurious polished leather and soft wool upholstery. All of our Vintage sofa's are comfortable cushioned seat and back offer total relaxation while the unique silhouette adds a touch of sophistication to any space. Our Iconic Style Vintage Sofa has been carefully crafted with the finest materials - each component carefully selected for its quality and beauty. Its luxuriously smooth leather seating combined with the warm tones of the teak frame make them all truly one-of-a-kind. Plus, the stylish curves are designed to provide maximum comfort from every angle! With iconic style, our vintage sofa's is sure to be admired by all who enter your home. It's truly an essential addition to any sophisticated living room or office space!
Unlock the Beauty of an Iconic Style vintage sofa
Are you a fan of classic and iconic design? Are you looking to inject a timeless piece into your home decor? Look no further than the danish modern vintage sofa! This timeless style is perfect for those looking to add a touch of sophistication to their living space. Crafted from super-luxurious leather and premium wool upholstery, this sofa will easily become the anchor of any room.
Adding Flair to Your Home with a Vintage Sofa
When it comes to creating the perfect mid-century modern living room, finding an original mid century sofa is key. And with these beautiful pieces of furniture, you don't have to worry about settling for a knockoff. These solid frame sofa will have been been newly upholstered, so you can choose how luxurious your seating will be. Plus, its chic design elements like tapered legs and clean lines make it a timeless classic that'll look great in any room.
Discover the Beauty of Art Deco Sofas
An Original art deco sofa offer a timeless and classic style to any room in the home. These luxurious pieces feature distinctive geometric designs, and often incorporate curved lines that combine modern comfort with a vintage look. The solid frame construction ensures durability and strength, while new upholstery adds a fresh touch of elegance and sophistication.
These stunning sofas bring back the Art Deco era of glamour, creating an inviting atmosphere for entertaining or simply enjoying quality time at home. The subtle curves featured on these iconic pieces make them the perfect statement piece for any room. Whether used as part of a larger decorating theme or as a stand-alone piece, original art deco sofas bring beauty and charm to any living space they inhabit.
Original Antique Leather chesterfield Sofa
Sofas are often the centrepiece of any home's decor, and original antique sofas can provide a classic and luxurious look that is timelessly fashionable. The classic leather chesterfield sofa features a buttoned seat, rolled arms, and an external frame of wood covered in top quality leather. This type of sofa has been popular for centuries due to its simple yet elegant design.
These sofas not only look great, but they are also extremely comfortable thanks to their deep seats. They are perfect for those who want to add a touch of grandeur to their interior without going overboard with decoration. Antique chesterfield sofas come in various shapes and sizes, allowing them to fit into any room no matter the size or layout.
Original Vintage Sofa's for sale UK
A vintage sofa is a great way to add a bit of sophistication and elegance to any home. From the variety of styles to choose from, it is easy to find something that will perfectly fit any interior design. Not only that, but vintage sofas are made with high-quality materials and craftsmanship that gives them a timeless appeal. Best of all, they are very affordable compared to modern sofas and will last a lifetime.