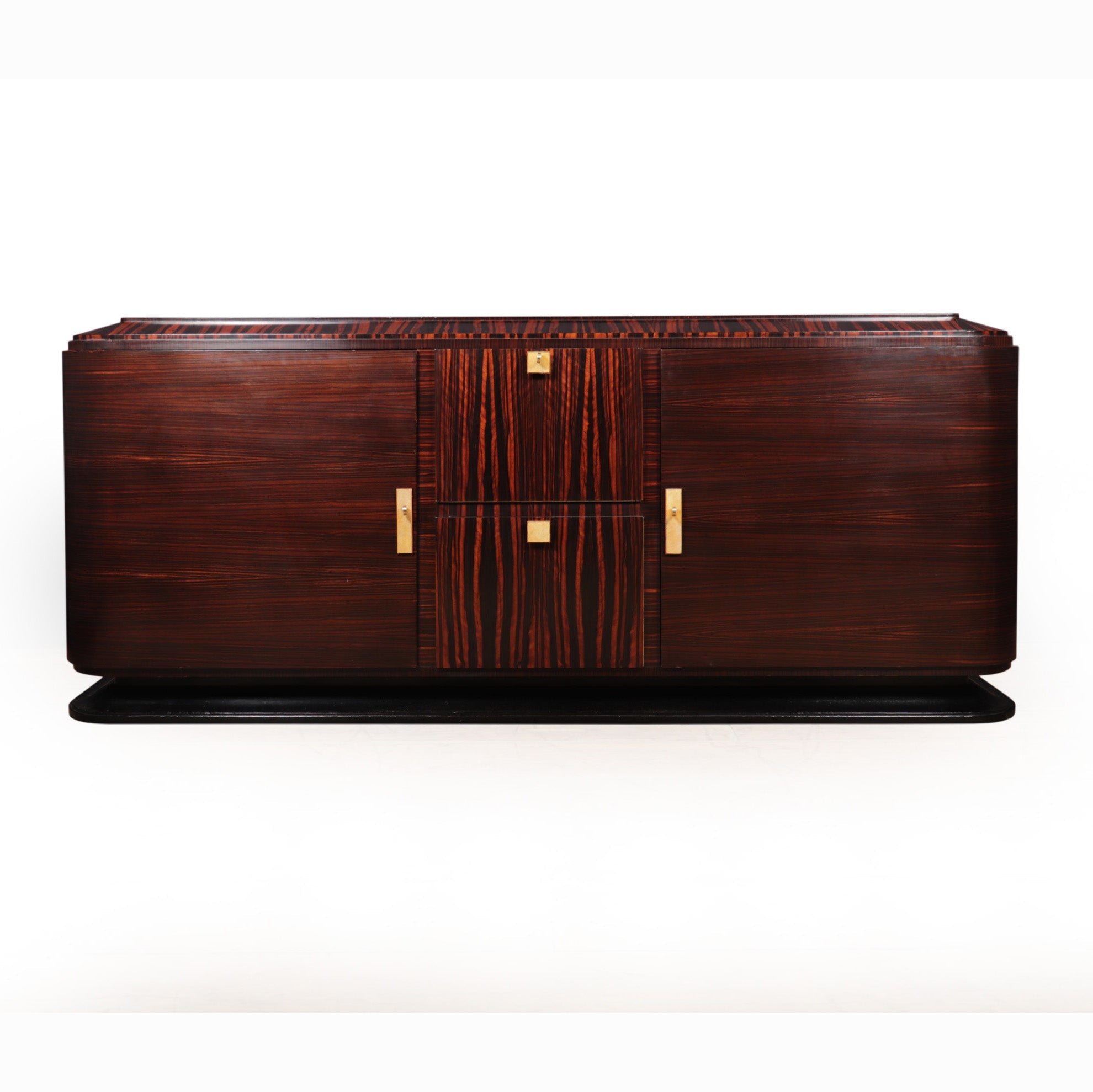 Art Deco sideboards were smaller in proportion than their predecessors. Although it has to be said that a room of decent proportions may still be required, the overall shape was used to make much more of a statement. So that it stood as a centrepiece within its interior. A French art Deco Sideboard with sloping sides, bowed and breakfronts became popular with fluted doors and eye-catching handles. in the USA this would have been called an Art Deco Credenza, the designs simplified, creating a much more uncluttered piece but, chose to use the embellishments of the materials used in a more visually striking way.So that overall the sideboard became incredibly stylish like an Italian Art Deco Commode this is now classed as Antique art deco and will stylishly fit into any Home. The physical requirements were met in a much more unified and elegant fashion. Some even catered to multi-function as drinks cabinets with sliding, rotating or even drop-down mirror lined cupboards that may have been lit. The emphasis was on the complete package, catering for any requirements, such as felt lined cutlery drawers, bottle wells and even cocktail sticks, juicers and trays like the Epstein Art Deco Cabinet. 
ART DECO SIDEBOARD
There are many different styles from the 20th Century that are incredibly popular, though Art Deco stands out even among these many styles. Originating in France, this style really came into its own in 1925. The freedom of expression that is associated with the Art Deco style leads to a variety of wildly different looks, colours, and unique design that leave an impression. This design flourished by uniting a wide array of styles in a way that showed a clear goal of being modern. This vague goal results in these vintage sideboards being bold, surprising, and often times creating a memorable living area that also served as a work of art. Able to blend bold colour combinations, geometry-inspired from Cubism, exotic Far East styles, and a hint of royal European craftsmanship, it's hard denying the combinations available.
Why Choose an Art Deco Sideboard for your home
If you're looking for a unique piece of furniture to add to your home by adding a early 20th century English art deco sideboardto your home is a great way to make a statement and add some extra storage. They are often made with beautiful woods such as Macassar Ebony, Rosewood, Walnut and Maple they feature simple yet intricate details, These pieces are usually very ornate and can really make a room pop. Plus, they're functional too- perfect for storing dishes, glassware, or anything else you need to keep out of sight. If you're looking for a unique piece of furniture that will really stand out you are in the right place.
Breathe new life into your living space with an art deco sideboard.
In the world of interior design, there are few styles as timeless and chic as art deco. Though it fell out of fashion for a few decades, this time it is back and better than ever. One of the best ways to incorporate this style into your home is with a French large art deco sideboard macassar. Choose lamps that complement the style, Art deco lamps are typically made of bronze or other metals and have a sleek, geometric design. Hang a large picture or a mirror on the wall behind your sideboard. This will create a focal point for the room and help to tie the whole look together. Place a bronze sculpture or a vase on the sideboard. This will add depth and interest to the overall look. choose a good colour scheme, not forgetting curtains and other fabrics in the room.
Discover the many uses for art deco sideboards and buffets.
First, a sideboard has to be majestic in appearance. And these furnishings excel at that. You can find plenty of room for storing tableware, dishes, silverware, even can be used in your office space and more. Be wowed by impressive detailing on door and drawer handles and be sure to admire the perfect symmetry that is so often seen in french vintage art deco sideboards with parchment front and achieve your objectives by choosing the number of drawers, doors and shelves you need and in particular the size of your sideboard to fit in the room.
Use an Art Deco Sideboard to Make a statement in your home
Art Deco is all about celebrating the modern world with inspiration, energy and optimism. This design style emerged in the 1920s and 1930s, and was a reaction to the soberness of the Victorian Era. Art Deco style represents luxury, glamour and exuberance. It is defined by symmetry, geometric shapes, strong lines and rich colours. This style is all about celebrating the modern world with its energy and optimism.
Why Buy European Vintage Art Deco Sideboards from The Furniture Rooms ?
We have Art Deco Sideboards for sale in the UK, Our selection captures the beauty of French Art Deco from the 1920s with sharp detailing, high-quality materials and excellent workmanship. All of our art deco sideboard are fully checked and correctly restored where necessary and extensively polished to bring the piece up to the finish of its forma glory, buy buying directly from us will cut out the middle men ensuring you have full attention from purchase to delivery in your home.