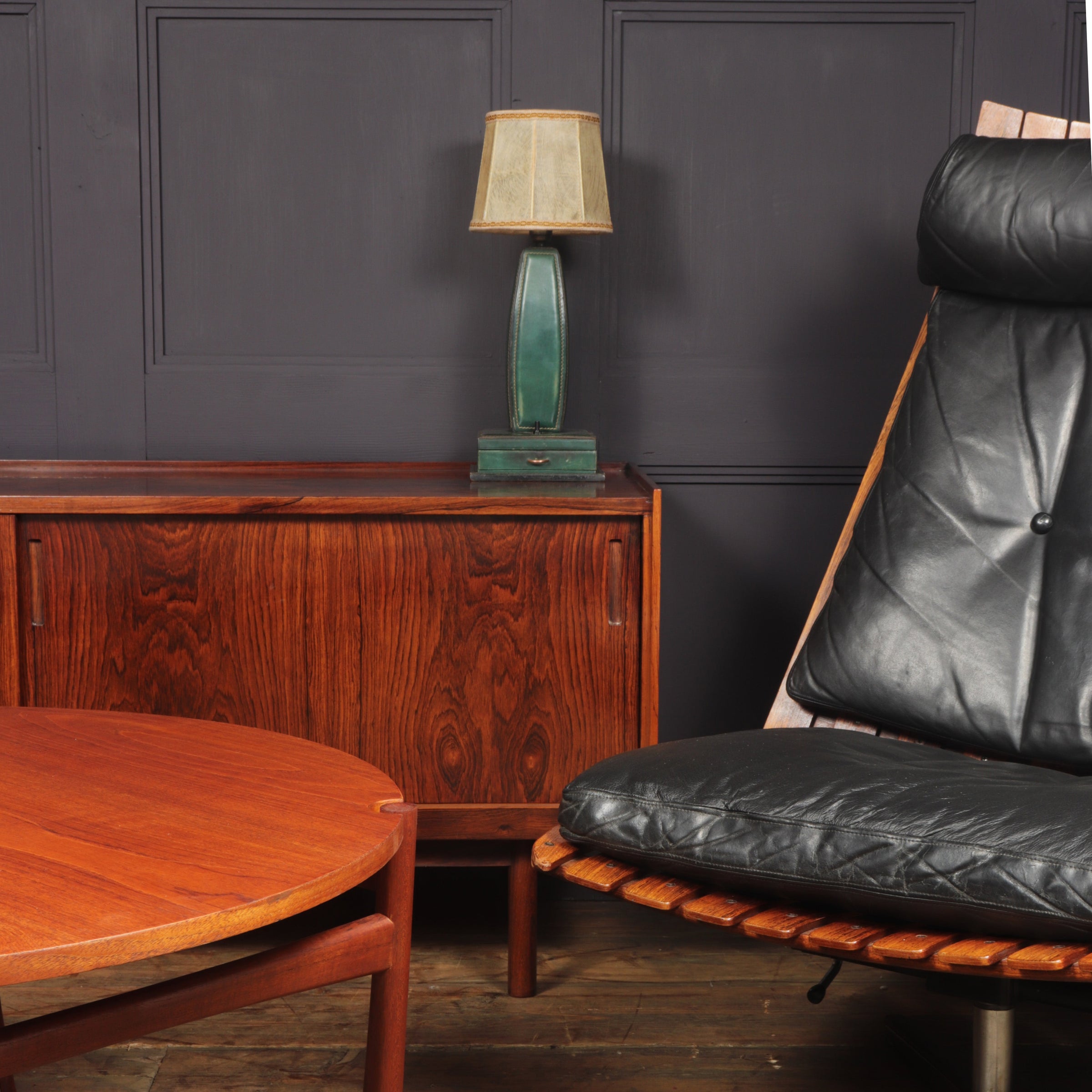 Mid-century modern is a design style that was popular in the middle of the 20th century. It is characterised by clean lines, minimalism, and a focus on functionality. Mid century  furniture is often made of natural materials like wood and leather, and it is designed to be comfortable and stylish. If you're looking for a timeless design style that will never go out of fashion, mid-century modern is the way to go. Mid century furniture is perfect for small spaces because it doesn't overpower the room. This style is also very versatile and can be dressed up or down depending on your preference.is becoming more and more popular, Mid Century Modern is being recognised in Museums around the world as 'Modern day Antiques' and in the US was really an American reflection of the Bauhaus movement. Mid Century Danish furniture used the principles of Bauhaus modernism in mid century design, creating clean lines based on an understanding of classical craftsmanship coupled with careful research into materials, proportions and the requirements of the human body. we always stock a range of modern design including Armchairs, dining furniture, tables and sideboards we deliver to London every Friday we also deliver Worldwide please contact us for a quote
Popular Types of mid century Furniture
Modernist furniture has seen a recent resurgence in popularity, and Mid century furniture is no exception. MCM pieces are often defined by simple lines and shapes as well as beautiful wood grains. Common types of mid century furniture include sideboards, desks, tables, and armchairs that come in a variety of styles and materials.
The most popular materials for these designs are rosewood, teak, and oak. Rosewood is known for its dark hue with stunning grain patterns. Teak is more simple but provides more flatter surface grain pattern. Oak offers a lighter natural look with prominent straight grain patterning throughout the board. Each of these woods provides a gorgeous option to incorporate into any home's décor while also providing durability and strength due to their dense construction.
Mid Century Modern
mid century Furniture
is a popular style of interior design that emerged in the mid 20th century. Originating from Scandinavian, Danish, Italian, French and English furniture designs of the 1940s-1960s, it has become one of the most iconic styles seen today. The aesthetic is simple form, organic forms and minimal ornamentation. Its use of natural materials such as wood and metals are also highlights of this style. Mid Century modern promotes comfort and functionality in its materials and construction details which make it ideal for modern homes in the 21st century. It incorporates influences from classic furniture designs to create unique looks that are both timeless yet practical. With its focus on craftsmanship and quality materials,
Mid Century furniture
offers an attractive mix of vintage charm combined with contemporary edge that makes it perfect for any home or office environment.
Incorporating MCM into Your Home
Modern contemporary design (MCM) is a timeless and stylish choice for home décor. Incorporating this look into your living room, dining room or even home office can give it a unique and modern feel. Here are some tips that can help you successfully incorporate Mid Century modern into your home:
Begin by focusing on the room's design elements. Choose furniture with clean lines and neutral colours such as taupe, grey, beige or white. Consider investing in statement pieces like an armchair with bold upholstery or metallic accents like chrome or gold finishes for lighting fixtures. Accessorising with simple yet vibrant art pieces will help add colour to the space without taking away from its contemporary vibe.
History of Mid century Furniture
MCM Furniture, otherwise known as Mid-century Modern Furniture, is a style of furniture that emerged in the mid-1940s. This type of furniture was heavily influenced by two World Wars and the Great Depression - people were looking for cheaper and more efficient ways to furnish their living room and the rest of their homes. MCM Furniture saw its peak popularity in the 1950s and 1960s, becoming a signature look for many homes around the world. This style has clean lines, organic shapes and natural materials like wood, metal or plastic.
mid century design has been highly celebrated for its modern take on traditional forms. The aesthetic is simple yet elegant with an emphasis on functionality rather than ornamentation or embellishments. Commonly seen pieces include Ray Eames chairs, Mies van de Rohe daybeds and Saarinen tulip chairs among others.
Iconic Mid century Furniture Pieces
Are you looking to make a statement with bold, iconic pieces of modern furniture? Look no further than Danish designer pieces from the Mid Century Modern era! A Bramin sideboard is a great example of the aesthetic, with its minimalistic design and practical storage solutions. For the dining area, Moller dining chairs are designed for comfort and produced to an exceptional standard. To complete the look, consider adding a Sven Madsen desk. Its sleek and distinctive silhouette will add an eye-catching touch to any home office.
Florence Knoll is also an iconic figure in the world of interior design. She was a major innovator who helped shape the modern look and feel of home décor, offices, and other public spaces. The Florence Knoll Collection is a hallmark of classic design that still resonates today with contemporary style.
Pierre Jeanneret was one of the most influential architects and designers of the 20th century. His legacy still lives on today as his iconic furniture designs such as his iconic chaise lounge have been reproduced and reimagined for modern homes. Born in 1886, Jeanneret began training to be an architect at the École des Beaux-Arts in Paris where he became close friends with Le Corbusier, another well-known architect from the Swiss-French school of architecture. Jeanneret's design style changed drastically when he moved to India in 1952 to help plan Chandigarh, India's first planned city after their independence from Great Britain. He drew inspiration from traditional Indian craftsmen which can be seen through his use of locally available materials like teakwood and rope cane combined with bold geometric shapes in his furniture designs.
Bring your home décor into the 21st century with these timeless pieces of Danish furniture!
Are you tired of the same furniture seen in every home? Want to upgrade your home decor without breaking the bank? Look no further than Danish furniture to bring your home into the 21st century! For decades, Danish pieces have been staples in modern homes and are considered timeless in their design. From classic chairs to stylish side tables, this furniture will make any room look luxurious and expensive.
Mid Century Danish furniture is a great option for those seeking an upgrade on a budget. The simplistic designs allow for multiple different styles due to their versatile nature. Whether you want something for a modern or traditional interior, each piece is designed with durability and longevity in mind meaning that investing in one of these timeless items will last you years to come.
Mid century Tables
There is something truly special about mid century tables that make them timeless classics. Whether you are looking for a functional dining table, a stylish side table or even an eye-catching coffee table, mid century tables have it all! These beautiful pieces of furniture come in all shapes and sizes to suit any style.
Discover the beauty of mid century design with these stunning pieces of furniture. The perfect way to add elegance and sophistication to your home, these iconic designs will never go out of fashion. Whether you're looking for a subtle statement piece or something more bold and daring, there's sure to be something perfect for your interior decorating needs! Choose from round, rectangular and square shapes in traditional wood finishes or contemporary metal frames - whatever suits your unique style.
Mid Century Sideboards and Storage Solutions
The mid century sideboard is a timeless classic that adds both elegance and practicality to a space. This piece of furniture has been popular for decades and continues to be an essential part of any home decor. Whether you're looking for something more ornate or more minimal, there's sure to be a mid century sideboard out there to suit your needs!
When it comes to storage solutions, cabinets are the perfect way to keep things neat and tidy without compromising on style. From small sideboards with drawers, shelves, and cupboards large enough for books and other items, you can find cabinets in all shapes, sizes and types of wood. And if you need extra storage but don't have much space available, then a bookcase could be the answer giving your living room or dining room an instant transformation.
Mid Century Chairs For Sale
Are you looking for the perfect mid century chairs to add a touch of nostalgia to your home? With our selection of dining chairs, armchairs, lounge chairs, swivel chair and desk chair options, you can find the right piece that fits your style.
All of our mid century chairs are made with quality craftsmanship and attention to detail. Our designers use traditional production methods in combination with modern touches to create one-of-a-kind pieces. Whether you're looking for a statement chair or something more subtle, we have a variety of styles available in an array of colors, fabrics and materials. Browse our selection today to find the perfect piece of mid century furniture for your space.