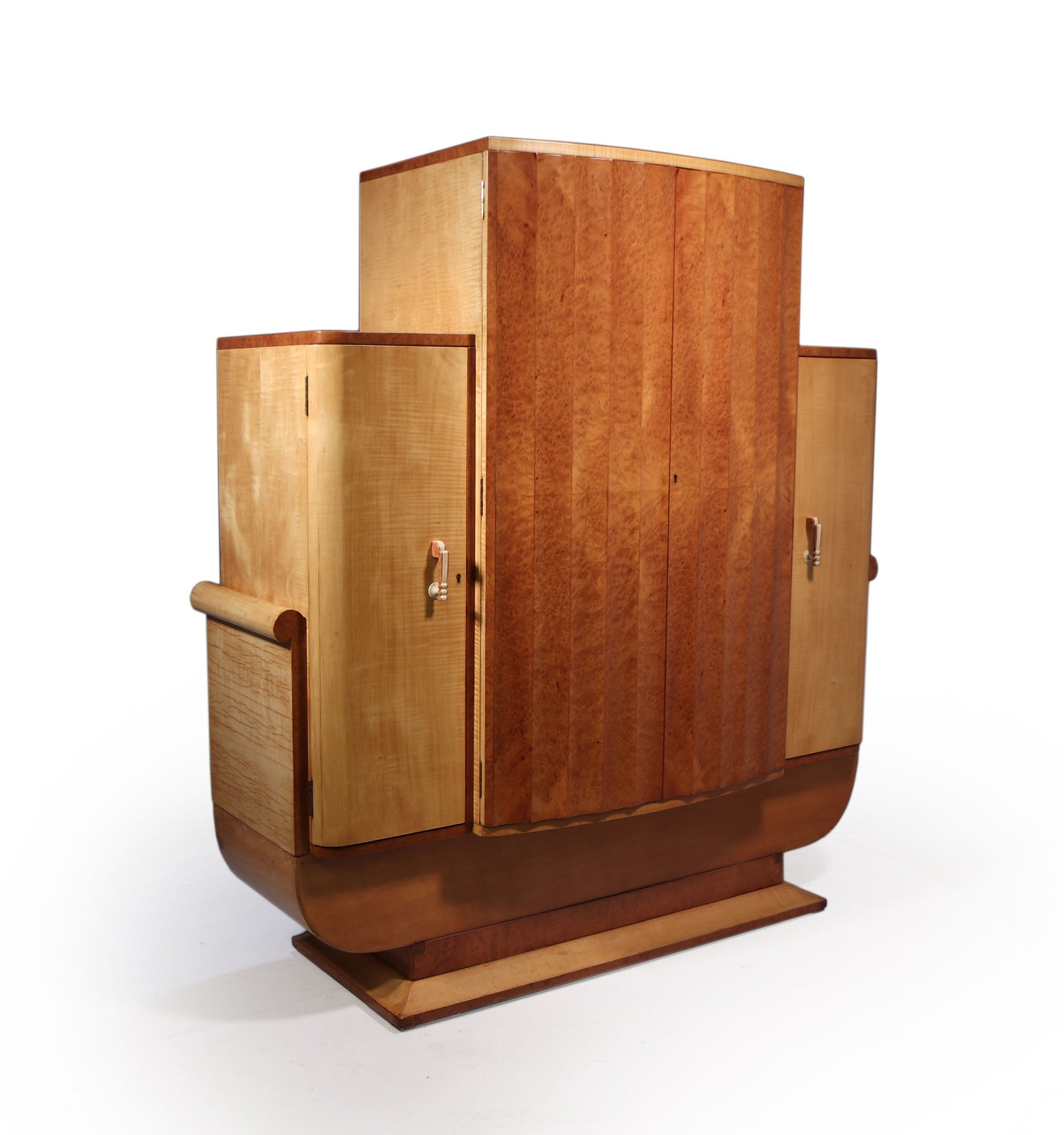 A cocktail cabinet is a piece of furniture that is used to store and serve alcoholic beverages. It is usually made of wood or metal, and it has a variety of shelves, drawers, and compartments for storing bottles, glasses, and other barware. Cocktail cabinets can be found in a variety of styles, including vintage, antique, art deco, and mid century modern. They are often used as an accent piece in a living room or den, and they can be a great addition to any party or pre-dinner drinks.
we have a range of different types of vintage cocktail cabinets from all periods, mostly the cabinets are from the Art Deco period, all different shapes and sizes, small cocktail cabinets are a little less imposing where as the large cocktail cabinet will look important and be a showpiece in the room.
There are many different types of wood that can be used on these cabinets, each with its own unique grain and character. Macassar ebony is a type of wood that is very dark in colour, almost black. It has a very fine grain that is perfect for creating intricate designs. Burr walnut is another type of wood that is often used for veneers. It has a dark brown colour with a distinctive grain pattern. Sycamore is light in colour, usually creamy white or pale yellow. It has a relatively straight grain and is commonly used for making cocktail cabinets and other interior furniture. Burr maple is another type of wood that can be used for cocktail cabinets with a distinctive grain pattern.
The interior of a cocktail cabinet should be as good as the outside, some have chromed fittings, mirrored surfaces, light up on opening, bottle holders, and cocktail glass holders. This will give the room an elegant and luxurious look that will make your guests feel like they are in a high-class establishment. Cocktail cabinets were first introduced in the early 20th century, and became popular in the 1940s and 1950s. Many vintage and antique cocktail cabinets can be found today, often with art deco or other retro styles. The most well-known manufacturer of cocktail cabinets is Harry and Lou Epstein, a company based in the UK in the 1930's. Hille cocktail cabinets are known for their high quality and unique designs. Jules Leleu also designed Cabinets in the Art Deco Period he was French designer and cabinet-maker. Cocktail cabinets are popular among collectors of vintage and antique furniture. They are also often used as barware in modern homes.