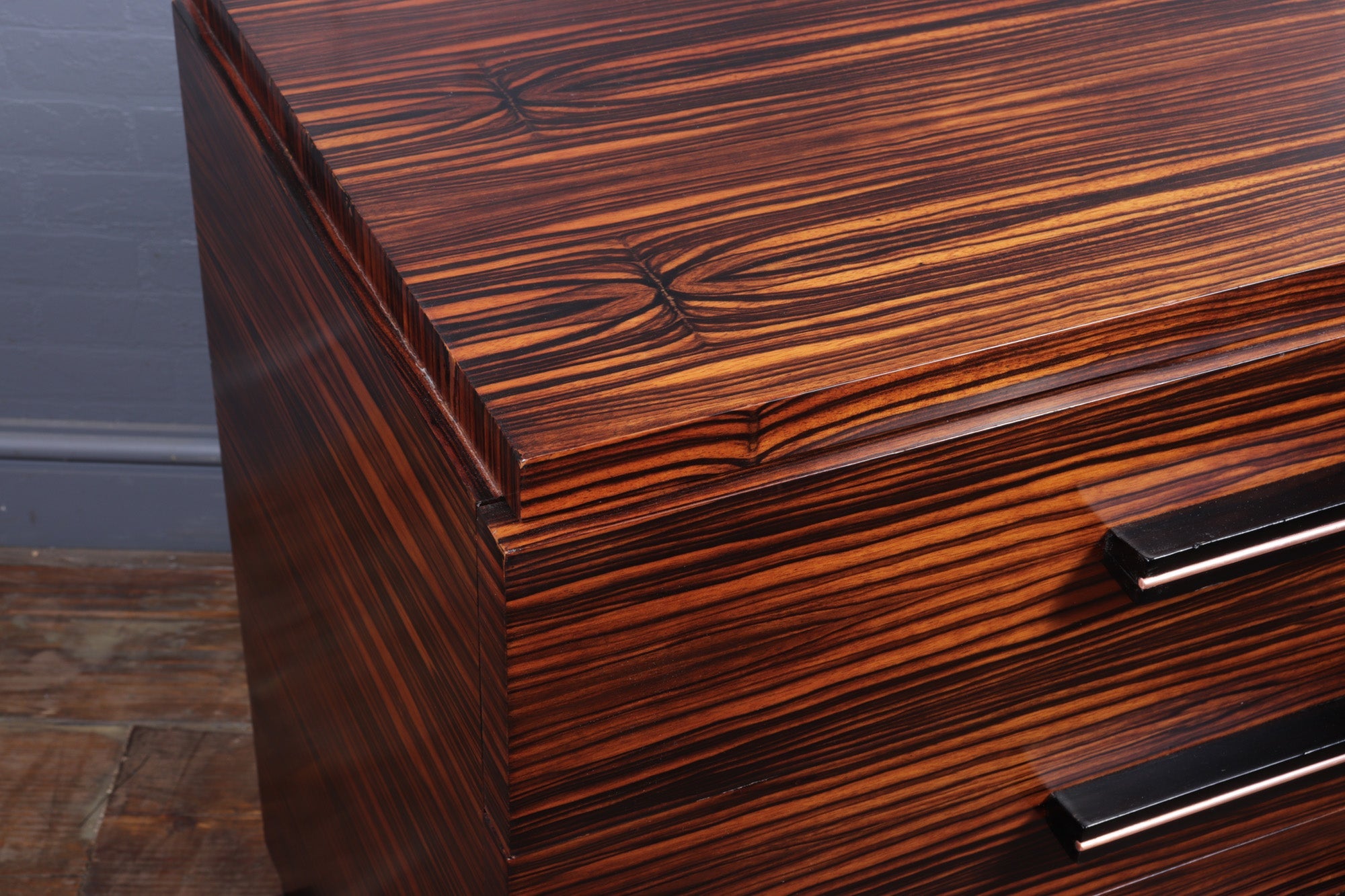 Vintage Bedroom Furniture
For those who appreciate the timeless beauty of vintage designs, there is nothing quite like solid wood bedroom furniture. From real wood, oak and walnut bedroom furniture is back in style and a great way to add warmth and uniqueness to your bedroom. If you're looking for something special, consider searching for classic art deco or mid-century pieces to bring a touch of sophistication and character to your space. All of our Bedroom Furniture including Art Deco, Mid Century and Antique -  Bedside Tables, Chest of Drawers, Dressing Tables and  Beds

Vintage Bedroom Furniture
Adding vintage furniture to your bedroom is a great way to achieve a classic look. Whether you're going for a rustic, farmhouse feel or something more modern and sophisticated, there are plenty of options available. From walnut and mahogany to oak and antique styles, you can mix and match pieces to create the perfect space.
If you're looking for something truly unique, consider adding art deco or mid century modern pieces to your room. Art deco furniture has sleek lines with geometric shapes and bold colours that will add instant character. Or if you prefer a more traditional look, mid century furniture features natural wood finishes with stunning details that will make your bedroom feel like an oasis from the hustle and bustle of life. Whichever style you choose, vintage bedroom furniture is sure to bring a timeless elegance into your home.
When it comes to creating a unique and stylish bedroom, vintage furniture is the perfect way to add character. Whether you're looking for bedside tables or a wardrobe, there's something awe-inspiring about adding beautiful pre-loved pieces to your space. From grand art deco cabinets to elegant dressing tables, vintage furniture can bring your bedroom vision to life.
The options are endless when it comes to finding the right vintage pieces for your bedroom. For those who prefer a traditional look, ornate chests of drawers make an eye-catching statement in any room.
Vintage Art Deco bedroom Furniture
Vintage Art Deco bedroom furniture is the perfect addition to any home. With its timeless style and refined design, it will bring a touch of class and vintage charm to your bedroom. From bedside tables to cabinets, chests of drawers to wardrobes and art deco dressing tables – there's something for everyone when it comes to choosing the right furniture for their Art Deco inspired home. Whether you're drawn to its minimalistic lines, sleek geometric shapes or luxurious finishes - you'll be sure to find something that perfectly complements your unique style.
It's easy to add a hint of sophistication with vintage Art Deco bedroom furniture. Each piece has been carefully crafted, paying attention even down to the smallest details such as intricate handles or stylish legs – all designed with comfort in mind.
Antique Bedroom Furniture
Adding antique bedroom furniture to your space is the perfect way to add a unique character and charm. From ornate bedside tables to intricate cabinets, chests of drawers, wardrobes, and dressing tables - there are endless options for adding vintage touches with timeless sophistication. Whether you're looking for a subtle nod to bygone eras or full-on retro vibes, you'll find it all with antique bedroom furniture! With beautiful wooden finishes and delicate carvings that simply can't be imitated in modern pieces, antique bedroom furniture is sure to make any room feel luxurious. These exquisite furnishings can bring a sense of awe – delighting those who love details from years gone by while adding an air of refinement at the same time.
Mid Century Danish Bedroom Furniture
Mid Century Danish Bedroom Furniture is the perfect way to transform your bedroom into a dreamy, stylish haven. If you are looking for timeless pieces that will stand out and that will make your bedroom feel like pure luxury, then look no further than this classic style of furniture.
The range of Mid Century Danish Bedroom Furniture includes bedside tables, cabinets, chests of drawers, wardrobes and dressing tables. Each piece combines practicality with elegance to create a beautiful space that you can enjoy for years to come. Each item has been carefully crafted from quality materials such as teak wood or rosewood to ensure durability and long-lasting beauty. With so many different pieces available, it's easy to find one or more items that perfectly suit your individual tastes and needs!
Walnut Bedroom furniture
Furnishing your bedroom with walnut furniture is a great way to add an elegant touch of warmth and make the room feel inviting. From sleek bedside tables to stylish chests of drawers, our range of walnut bedroom furniture has something for everyone.
For those looking for a complete bedroom furniture set, we have timeless dressing tables and cabinets available in this versatile wood range. The dark tones and natural grain patterns provide depth and character to any room. Not only will you be able to enjoy the beauty of these pieces on a daily basis, but they are also highly durable and built to last!
Real Wood Bedroom Furniture
Real wood bedroom furniture adds a luxurious, timeless quality to any bedroom. From classic walnut to mahogany and exotic rosewood, each type of wood brings its own unique characteristics and style. For those looking for something a little more different, there is always the option of polished black lacquer or karilean birch.
Regardless of the type of wood chosen, real wood bedroom furniture is sure to be an impressive addition to any home. Not only will it add warmth and charm, but it will also last for years with proper care and maintenance. With all these options available, you can create your dream bedroom in no time!
Rattan Bedroom Furniture
Rattan is one of the most popular materials for furniture, as it's lightweight yet durable. Additionally, its natural texture adds depth and interest to any room. For those seeking something more luxurious, many rattan pieces feature lavish fabrics such as velvet or leather upholstery in neutral colours like white or beige. Whether you're looking for a single piece or an entire set, there's something to fit every style and budget.
Vintage bedroom furniture is a great choice for those looking to add both style and character to their space. With its timeless appeal, vintage furniture will never go out of style. Not only will it bring a sense of nostalgia, but also add a unique touch your home that reflects your personality. Whether you choose original pieces or repurposed antiques, there's no doubt you'll find the perfect piece to complete your bedroom look.